Let there be light.... good looking light! Last weekend was not as relaxing as we may have liked, but at least we have something to show for it! On Saturday we ventured over to Lowe's to look for light fixtures for above our kitchen sink, and in the middle of the kitchen ceiling.
Our previous ... uh ... apparatus was this terrible blue halogen track light ...
Those blue shades contributed to the blue monster mess, so they had to go. And while searching for the perfect replacement at Lowes, it didn't take long for us to fall in love with the Allen Roth Edison collection.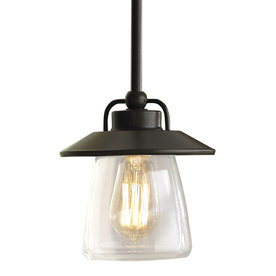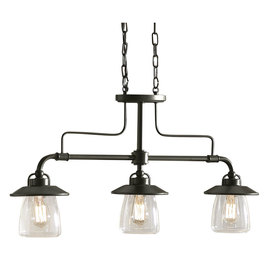 Shall I list the qualities we loved - how about the rubbed bronze, the clear globes, the vintage/industrial style and most of all - the original Edison-style bulbs. Look at those beauties.
We were sold. We brought those babies home and got to work! The hubster did a great job of playing with the wiring!
But this was definitely a two person job. Between me holding up the light fixture and Greg tightening the screws, etc., we both had sore arms the next morning. Here it is, in all its glory, before the shade and all bulbs were added.
And here's Greggums - look at that concentration! And notice the use of the paper towel, so as not to smudge the glass. My cup runneth over!
And here's the final product! What do you think?
I'll tell you what we thought ... we thought she was a beaut! "A real beaut, Clark."
In all seriousness, we loved them. And I'm not sure if you noticed, but in the product photos from Lowes, this fixture is hanging by chains, and marketed for use over an island or in a large room. So, as true love always finds a way, we had to
customize
rig it a bit to make it work in our space. In the end, we think it was worth the extra frustration and time.
And here is it's younger sister ... a solitary fixture for over the sink. We rigged this one as well. The ideal use was not for the fixture to be hung from a chain, but rather to be mounted to the ceiling. Actually, it didn't even include a chain, but we used the leftover pieces from the larger fixture, and a good ol' ceiling hook to make this work. It's called personalization, people.
What can I say, I like our way better. :)
So after a long day's work, we kicked back, relaxed, enjoyed the warm glow of our old-fashined light bulbs and beautiful kitchen, and drank a (fine more than one) hard-earned glass of wine.